Car Repairs – Eight Signs You Need an Expert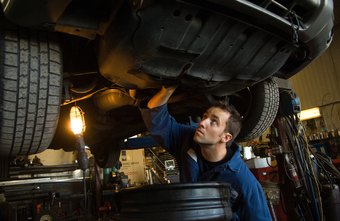 Cars have been steadily becoming more and more specialist, and more and more complex in the last decade. With the advent of electric motor technologies, with computer controlled systems and electronic fuel injection, the cars of today are nothing like the FJ Holden your Dad could be found underneath every Saturday morning! The range of vehicles that can safely have minor car repairs performed on them by amateurs is shrinking. Here we look at eight signs that you should take your car to a shop, and save yourself the hassle and possible expense of breaking something extra.
1. Your car is less than ten years old
Cars newer than ten years old usually have quite advanced systems integration. Even car repairs like changing a battery or a fuse, replacing brake pads and doing common car service tasks can actually cause other components of the system to fail if the correct procedures aren't followed.
2. The car repair you're considering isn't in your new car handbook
If the manufacturer isn't telling you to do it yourself, it is probably safest not to. If you're in doubt, why not call a mobile mechanic to have a look at the job first? They'll be able to advise you on safety points to remember, if its likely that you'll need to make the fix again in the future. You can make sure that you won't have to spend more having the mechanic fix your work as well as the original problem, and possibly save money in the future.
3. The repair requires something to be lifted out of the car
Block and tackle safety is a serious issue. Any time you lift something heavy out of your car into the air, you're risking the other parts of your car as well as your own body. We always advise that you have professionals perform this sort of work.
4. The car repair requires tools you don't have
Contrary to Clint Eastwood's belief, not every car repair job can be done with a shifter and sticky tape. If you don't have the tools to do a repair job yourself, the cost in buying them often outweighs the savings you could make on labour.
5. Your car has electronic fuel injection
If your car has electronic fuel injection (and in many cases, this is stamped in big letters right on the head, or along with the model name somewhere on the body), it is not safe to work on it by yourself. Even repairs that aren't related to the timing could throw the computer out, and then cost you more to fix at the mechanic's than it would have originally.
6. You aren't 100% confident of your diagnosis
If you have even the shadow of a doubt about what exactly is causing a specific problem, you shouldn't work on it. Even experienced mechanics have often found that the complexities of the petrol engine and drive train have tricked them … when they were 100% confident. If as an amateur you aren't confident, it makes much more sense to take it to someone that can be.
Mobile mechanics will often provide fixed quote prices – so even if they make one of these mistakes, they are still bound to honour the price they gave you before beginning work.
7. You haven't done the repair yourself before
Online forums and guides are certainly handy, but there is a reason that automotive mechanic apprenticeships last for a long four years! A wealth of hands-on experience in what to do when things go slightly wrong, if a bolt is too tight or another part is blocking your way, and the order in which to complete tasks, belongs to qualified mechanics. There simply isn't enough space on the net to explain all this is a forum.
8. The time it will take you to perform the repair is more valuable to you spent doing other things
It may take a qualified car repair-person 1 hour to replace your brake pads and check over the braking system. It might take you 3 hours without the proper tools, knowledge of sensors etc. Sure, you didn't pay for those hours – but unless you truly enjoy working on and learning about cars, you are prepared to deal with any mistakes you might make and are performing only repairs that are non safety-critical on an old car – in most cases they aren't worth it.